The WEST FEST "40th Anniversary of Woodstock" will take place in San Francisco on October 25, 2009 in Golden Gate Park, Speedway Meadows from 9 am to 6 pm with free admission. Hundreds of San Francisco rock stars, luminaries and activists will pay homage to Woodstock, the largest free musical event in history founded on the principles of peace, love and spirituality.
Born out of the "Summer of Love" which began in San Francisco in 1967, Woodstock helped change the way people lived in the world. The principles began many movements including the Peace Movement, Free Speech, Women's Rights, Workers Rights, the Environmental Movement and now the emerging Green Movement.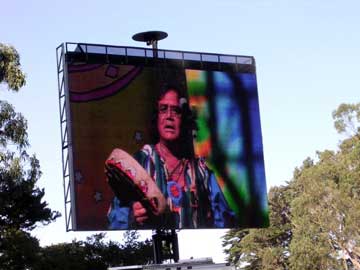 This event will draw an estimated 40,000 people on the low end with an upward potential of 100,000. Our last event, "The Summer of Love 40th SF" hosted 132 rock stars and activists and drew in excess of 100,000 people. Once again, we will have extensive media coverage and a worldwide webcast.
The West Fest "40th Anniversary of Woodstock" will pay homage to the 1969 event in Woodstock which drew over 400,000 people. Our event will concentrate on the original ideology and beliefs that surrounded the times and the movement that changed the way people thought and lived worldwide.
It will take place in Golden Gate Park at Speedway Meadows with simultaneous events being held in Germany and New York as well as multiple other potential markets including England, Holland, Australia, and Japan. The event will be webcast live from all of the event locations on the "Woodstock West" (WW) website.
Acts confirmed: Country Joe (Country Joe and the Fish), Denny Laine (Paul McCartney, Wings, Moody Blues), Lester Chambers (Chambers Brothers), Harvey Mandel, Barry "The Fish" Milton, David Denny (Steve Miller), Alameda All Stars (Gregg Allman's Band), Dan Hicks and the Hot Licks, Michael McClure (Beat Poet) and Ray Manzarek (Doors), PF Sloan, Michael Narda Waldon, Jimmy McCarty (Detroit Wheels), Peter Kaukonen, Terry Haggerty (from the Sons of Champlin), John York (Birds), Leigh Stevens (Blue Cheer), Greg Douglas (Steve Miller)
Many of these artists played our "Summer of Love 40th SF Anniversary" event and are looking forward to participating. Hundreds of San Francisco stars and musical luminaries will perform. This event will be a combination of 1960's musical icons, cultural leaders, current pop stars and activists influenced by the era.
SMASH THE GUINNESSE BOOK OF WORLD RECORDS:
In honor of Jimi Hendrix, who headlined the festival in 1969, 3,000 guitar players will attempt to break the World's Record for the Largest Guitar Ensemble playing "Purple Haze" -- all at the same time!
ECO-GREEN VILLAGE:
On the forefront of yet another movement, we are incorporating an Eco-Green Village with everything green, fun, and sustainable. We'll have merchandise, food, solar and happening alternative energy vehicles. In this decade it's hip to be green.
MARKETING POTENTIAL
Participating sponsors will benefit from multiple opportunities for logo exposure, placement, and promotion in a key marketing demographic. Sponsors will benefit from exposure on the event day as well as six weeks before and after the date via the following:
· Backdrop and speaker stack logo banner placement
· Merchandise branding opportunities: T-shirts, posters, food and beverage containers and many more items to be announced as the event date approaches
· Logo placement on advertisement, media print and digital ads beginning six weeks before event date
· Skate Board Ramp – Banner space available on the back, sides and top of ramp
· Backstage Area – Green Rooms – Banner placement and promotional product placement
· Crowd Barricades – Space for long banner placement
· Press Area – Ideal for logo exposure and background during interviews and photographs with a high concentration of the national and international press
· Logo exposure in the live DVD box-set to be distributed worldwide by 2b1 Records Red Music/Sony
Radio, print, magazine and web advertisements